Blaze Commerce exclusively designs, develops, updates and maintains WordPress sites running WooCommerce stores. Our clients are across Australia, as well as overseas.
Why build my store in WooCommerce?
WooCommerce is supported by a massive team of developers worldwide, which means it's packed with options, always evolving and constantly updated. Also, it runs on WordPress, the software that powers 30% of the websites in the world.

The wide support for WooCommerce means many options are already built. Your store will be able to take the best from a whole ecosystem of themes, templates and plugins. You'll only have to invest in custom development occasionally — where it will give you a real competitive edge.

On the other hand, with some platforms, e.g. Magento, expensive custom development is the norm. Magento also takes more server CPU and memory, which means it will cost you more to host.

There are some great platforms, like Shopify, that are simple to use, but they're walled gardens. The restrictions that make the stores easy to set up also mean that there's almost no potential to customise and make your site distinctive. The moment you want to expand beyond what's standard in Shopify or you want to do something unique for your customers, you'll hit those walls.

We can bring in a WooCommerce site at an investment level comparable to what you'd put into a less flexible Shopify site, and far cheaper than you'd pay for the same features in Magento.
Our formula for successful WooCommerce stores
We have a proven formula we follow with all new WordPress WooCommerce site builds that ensures you'll Blaze Commerce. The process includes the following elements and features:
Research
Over the years we've built deep experience and understanding in how to build successful online stores. We call this the Blaze Commerce Formula and you can read all about it here. It's the 'DNA' we build into all our online stores.

In cooperation with you, we'll host a 60-90 minute video workshop for us to hear about your business, your goals, your ideal clients, your competition and your view of the landscape.

We'll then prepare a Project Scope document that incorporates the specific requirements of the project and overlay it with our own formula for building online stores to ensure nothing is missed or left to chance with the project.
Design
For most of our clients, 50%+ of their traffic comes from mobile devices. With this in mind, our design process is now 'mobile first' for all projects – we start with the design of the homepage for mobile, then move to tablet and desktop once we've got the mobile right. The process is repeated for other page types for your site. This ensures the site looks great regardless of how it's being viewed.

Site designs for your project would be based on the 'Design Brief' that is completed as part of the Research phase. We only proceed with the site build once you're completely satisfied with the site designs.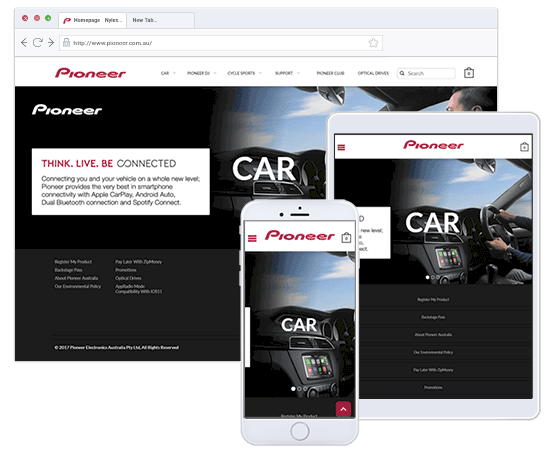 "Blaze Commerce understood our business incredibly quickly, and it doesn't seem like there's anything they can't do. I'm ridiculously happy with them."
Development
Upon completion of the design stage of the project, and closely following the Project Scope document, we'll get to work building your new WordPress WooCommerce online store. In addition to applying the new designs, or 'theme', to your new site, we'll also install and configure all plugins necessary for accommodating all the features and options for your project.
Testing
As part of the site build, we'll conduct testing of the site. We follow extensive test plans for testing new site, built over many years of building and maintaining online stores. Testing includes the following:
Reviewing all page types on multiple 'view ports' to ensure the site layout and navigation is accurate and consistent on mobile, tablet and desktop views.
Review configuration, and testing of all plugins. This includes testing of any webforms, confirming Google Analytics code is present and active, testing any integration with third-party applications such as Mailchimp etc. and ensuring the site is in good working order. We'll also carry out thorough testing of the online store aspect of the site.
During this stage, testing is also conducted by you in preparation for Launch. We will provide training on how to administer your new WordPress site during this stage
Launch
Leading up to the launch of the new site, we'll work with you to prepare a 'Launch Plan' that details steps for taking the new site live, including who's responsible for carrying out those steps, and when. We've taken hundreds of new sites live with minimal issues and/or downtime, and would do the same for you.
Migration of Data
If you have an existing online store, then migration of existing product, category, product reviews, blog entries and customer log-in accounts will be extracted from the existing site and imported into the new site.

Have you outgrown Shopify? Are you tired of the high development costs of Magento? Your sales won't skip a beat when we seamlessly migrate your store to WooCommerce from another ecommerce platform.
Product Data
We have extensive experience migrating product data from old sites to your new site.

This includes product category information, products, images, product reviews, and existing product URLs. Once migrated, any updates to content, images and categories can be easily carried out.

We know what we're good at. We develop and support websites built on WordPress. That's what we do, and that's all we do. We work hard to be the best at what we do, and we absolutely love doing it.

At the core of everything we do is our Blaze Commerce Formula for Online Stores that Sell – It's a formula we've developed over the years, and regularly review, update and refine to incorporate new knowledge and learning. Every service we provide to you, no matter how simple or trivial, in some way stems from this 'Master Formula'. When you work with us nothing gets left to chance.
Customer Data
For may of our clients, the customer data is critical – they have repeat customers that expect to use their existing login details to view their order history and create new orders. Special care is given to migration of the customer data and order history to minimise any issues post-go-live.
SEO meta data and Rankings
When migrating to a new site, it's absolutely critical that your SEO rankings are maintained. We've developed a comprehensive SEO Migration procedure, developed in conjunction with an SEO agency partner, that ensure your SEO rankings are not impacted by the move to the new site.

The plan covers the following:
URLs – existing URLs are kept on the new site, or redirected to the new URL
Title tags will be based on product titles to ensure relevancy to the page content.
Meta tags – existing meta tags will be copied over to ensure any prior SEO optimisation is carried over to the new site.
Images will be renamed to match the product title tags.
Update sitemaps will be submitted to Google.
Google Tag Manager, Google Analytics, Google Ads, and Facebook Pixel will be copied over to the new site if/where appropriate.
After go-live we'll monitor the site, capturing and logging any '404 page not found' issues and put redirects in place.