Selling products or services online allows you to reach a wider audience compared to the traditional brick and mortar type of business. To be able to do that, you may need an attractive ecommerce website that is search engine friendly. That's right, it is important to build a website with an SEO in mind.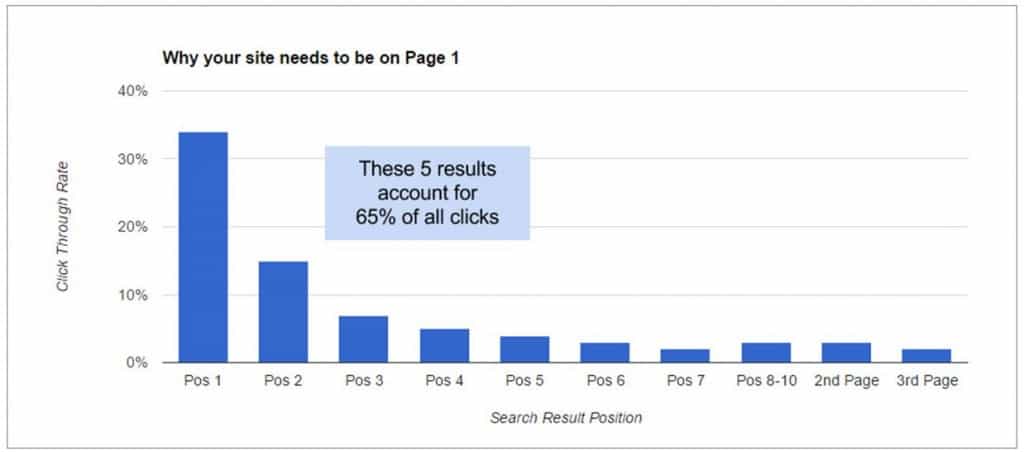 A research about Search Engine Results shows that more than traffic of business websites come from organic search. The top 5 positions in search results got of all clicks. In a month, there are  17.7 billion internet searches on which of the searchers are looking for products.
With these statistics, ranking high on search engines may give you an unlimited supply of traffic or customers. But it won't be that easy, as billions of websites or business owners are also aiming for that top spot. There's no need to worry though because the following 11 SEO tips will help get you there.
1. Make a Solid and Friendly URL Structure
The URL structure of a website is very important for robots and visitors. A solid URL structure helps robots to crawl and understand the contents of your website properly. To do this, you need to have a silo architecture of your website (as seen in the diagram below).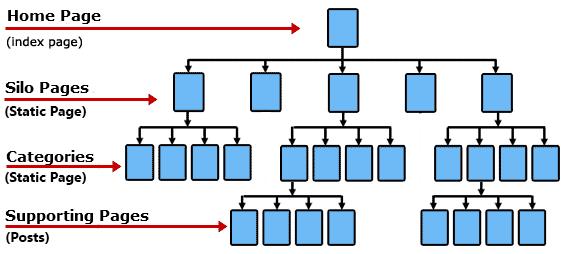 "Silo-ing" is the process of grouping related information of a particular subject into different sections within your website. This helps both visitors and robots to understand more about the topic. With this, the page will be given a higher priority in the rankings by the search engines. This also increases the CTR (click-through rate) and reduces the bounce-rate of your site as visitors will jump from different pages of your site with related or similar topic.
2. Make Your Product or Shop Page Easy to Access
Make sure that your homepage has a direct link to your product pages. You don't need to post the entire product range in the homepage, just 4 or 5 samples. You may label it as "Best Sellers", "New Arrivals" or anything that will make your visitors look for more product samples.

Also, in the product information page, add some related products. This will not only increase the product purchase but it is also helpful in SEO, as you are linking related products together. Take for example the above screenshot from Amazon product page. You may label it as "Customers Who Bought This Item Also Bought", "Frequently Bought Together With" or "This Item Works Perfectly With".
3. Find Effective Keywords
To be able to rank in search engines, you need to find effective and targeted keywords relevant to your product or content. You can do this by using any keyword finding tool like Google Keyword Planner. Finding the most effective keyword may require an in-depth research or experience. Depending on the content, you need to be specific to your keywords with a user in mind. Imagine yourself as a "searcher" and think on what you will be typing in the search box when you look for that particular product.
4. Use the Keywords as Anchor Text
After finding the keyword for your products, you need to internally link the product pages to relevant content of your site using the keyword(s) as anchor text. Anchor texts are text links that point to a page or site. Anchor texts may be used as an internal link (a link within the site) or a referral link (a link that comes from other sites). In this topic, we're referring the internal links. Anchor texts should be diverse to be able to target multiple keywords of the target page.
5. Avoid Duplicate Contents
Duplicate contents may mean not only the actual contents but also the URL variations of the page such as:
http://www.mysite.com/shop
http://www.mysite.com/shop/
https://www.mysite.com/shop/
When pages of your site are accessed using multiple URL's that is already considered as duplicate. To solve this, you need to have a 301 redirection in placed.
When we talk about e-commerce sites, there is a tendency that products may have similar contents on other websites. Such as when you are selling electronic gadgets, its features or product descriptions maybe identical to other sites since you are selling the same product. When this happens, make sure to optimise the page and find ways to reduce the redundancy of the content.
Instead of posting the content right away, make sure to check it first if there are other sites that may have similar content. Copyscape may help you check your contents with other sites. As much as possible, make your contents original.
6. Avoid Broken Links
This is another important thing to avoid for your site. Broken links are bad impressions not only for the robots but also for the customers. Imagine seeing pictures of product that you really like then clicking on the product description it says "404 page", much worse when you are about to purchase the product. Having too many broken links on a website is informing Google that the site is not properly maintained and may result to a drop in ranking.
It is very important to keep track of your website's pages. You may ask, "How should I able to track the pages of my website when I have thousands of pages?" Of course, you don't do that manually. There are various ways to check when your site has broken links. One practical way is checking your site using Google Search Console. You can add a property to the Google Search Console using your Google Analytics data. These 2 Google tools are very powerful when linked together to check the data and behavior of your site. Make sure that they are already in place before launching your website. You may also use tools like Xenu, Screaming Frog or Broken Link Checker plugin for WordPress to check any broken links of your site.
7. Use Catchy Product Descriptions
As much as possible, make your own unique product description with a user in mind. Do not use the product's brand website description. Create your own product description that includes relevant keywords. It's like having your own review of the product that is made into features.
8. Add Product Schema or Rich Snippets in the Page
Product schemas or rich snippets enable the robots to have a more detailed description of the product. Research shows that when a "searcher" is using specific keywords i.e. "Stephen Curry UA shoes green size 12" to look for a product the very likely they are to make a purchase. Here's an example of what a schema looks like when implemented to your product page: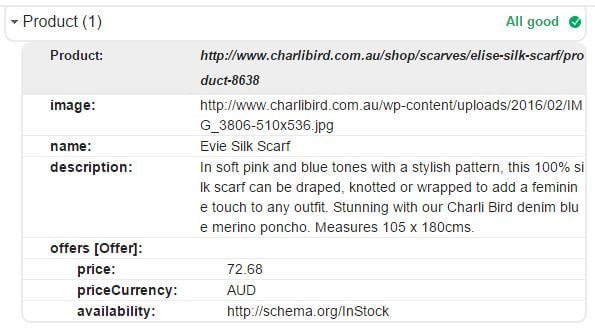 To understand how product schemas are done, you may check it on: https://schema.org/Product
You may use Google Structured Data Testing tool to check if the schema has been properly implemented.
9. Optimize Your Product Images
"What you see is what you get!" That is what most shoppers have in mind when looking for products to buy. It is important that you are using high quality (or actual product) images to entice the visitors. But you need to be cautious as high quality images may take time to load which may result to abandonment of the visitors. To optimise the size of your images, you need to use image decompression tools like TinyPNG. These tools do not affect the quality of the image, instead they selectively decrease the number of colours in the image without sacrificing the quality but reduces the file size. Another way to optimise the images is by using Alt tags. Alt tags inform the robots on what the image is all about.
10. Add Product Rating and Reviews 
Product rating and reviews are helpful for both searchers and robots. If you'll look into the details of the Product Schema, you will see that there is a property for rating and reviews. When products have good ratings, most likely Google will show them in the search results. In the same way, "searchers" will buy the product when they can see a good rating and review of the product.
11. Check Your Site's Behavior and Conversion Data
Only when you check the behaviour of your visitors you will know why they are not buying your products. Traffic alone is not enough. You need to check the data on what are your highly converting products and its source. Also, you need to know what pages of your site that have high drop rates and bounce rates. Make the most out of the Google Analytics tracking tool.
Once you have all these data, you may be able to improve your website and your marketing efforts. Follow your guts with a user in mind. If you are not sure, test your hypothesis using Google A/B experiments.
Another important tool to know the behavior and what your customers are looking for is to use online chat form. It has been proven to increase conversions especially for ecommerce websites. Chat support form increases the "trust factor" of your customers to buying your products.
These tips should be helpful to boost your site's ranking and performance. If you need help, feel free to contact us using the chat form or contact us form in the website. You may also hire the team for your WordPress or ecommerce needs.