You know this already – speed kills, especially when it comes to WooCommerce page speed.
Slow website speed can be the Achilles' heel of online stores, impacting conversion rates and frustrating potential customers.
Deloitte's recent study, Milliseconds make Millions, found that even a 0.1-second improvement in site speed can lead to a nearly 10% increase in retail consumer spending.
You read that right. Imagine the impact of that on your WooCommerce store's profitability.
And you may have heard about the study Walmart conducted on page speed. They observed, "When load times jump from 1 second to 4 seconds, conversion declines sharply."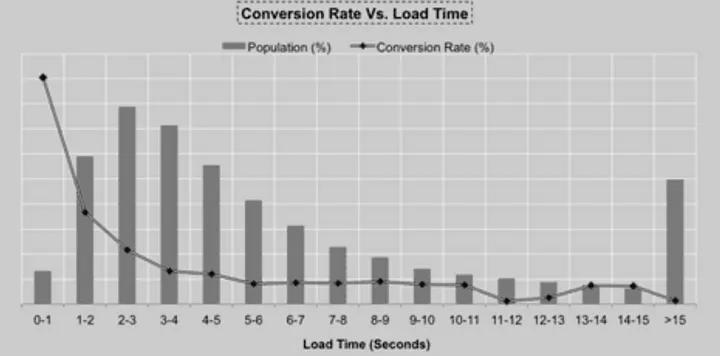 If you want optimal conversion rates for online stores, your pages must load in under a second.
End of story.
An Elephant in a Ballet Class
You invest in ads, SEO, social media marketing and more to drive traffic to your store, only to have them bounce immediately or abandon the purchase due to slow load times, especially on mobiles where most of the traffic is at now.
And for WooCommerce store owners grappling with the monolithic architecture of WordPress, consistent sub-one-second page loads are a pipe dream, the Holy Grail, a mythical state that is unattainable by mere mortals.
It's like trying to steer an elephant in a ballet class—clunky, uncooperative, and seemingly impossible. We've spent countless hours optimizing WooCommerce stores and know the challenges all too well.
That changed earlier this year when we went live with our latest iteration of Gourmet Basket.
Over eight years of collaboration, their site had grown increasingly complex, causing performance issues during peak sales periods. But the turning point came when we introduced them to the concept of going "headless."
The Headless Revolution: A Catalyst for WooCommerce Page Speed
The "headless" approach, focused initially on CMS sites, is rapidly gaining traction in ecommerce. It promises instant page loads, translating into increased conversion rates and average order values (AOV) for online stores.
We presented the headless solution to Gourmet Basket in mid-2022: Keep the extensive customizations, business automation, and app integrations of WooCommerce while solving performance and UX issues permanently.
Six months later, the project went live, and revenue immediately jumped 30% year on year. They recouped their investment within 60 days and haven't looked back.
Everything else Feels Slow in Comparison
I'm super proud of the speed of Gourmet Basket. I still get a little rush when I visit the site on my mobile, with the pages loading instantly as I navigate around the store, use the search, or filter a category.
Intriguingly, I didn't realize just how fast the WooCommerce page speed was until recently when I spent the better part of a month reviewing over 600 ecommerce stores on various platforms.
50% of those stores were Woo, but the balance was Shopify, Magento, Bigcommerce and a smattering of headless sites and other platforms.
To my surprise, I only found one store that came close to the performance of Gourmet Basket.
That store was Ancient Nutrition, which, upon further investigation, used the same tech stack as Blaze Commerce.
That was an interesting stat – only 1 out of 600 performed similarly to the store we built.
I knew we'd built a fast store, but was it really that fast compared to everything else out there?
This revelation prompted a question: "Just how fast is Gourmet Basket?"
Numbers Don't Lie: The Data Behind WooCommerce Page Speed
We compared Gourmet Basket's speed against well-known metrics:
Initial Page Load – the time to connect and load a page.
LCP – Largest Contentful Paint – how quickly the complete page loads in a visitor's browser.
Initial Page Load Scores
Using Securi's LoadTimeTester, we found that Gourmet Basket outperformed giants like Apple and Walmart with an initial page load of just 0.223 seconds:
apple.com 0.116 secs
walmart.com 0.139 secs
gourmetbasket.com.au 0.223 secs
nike.com 0.224 secs
hm.com 0.275 secs
Asos.com 0.320 secs
wayfair.com 0.375 secs
target.com 0.727 secs
Amazon.com 0.751 secs
zappos.com 1.418 secs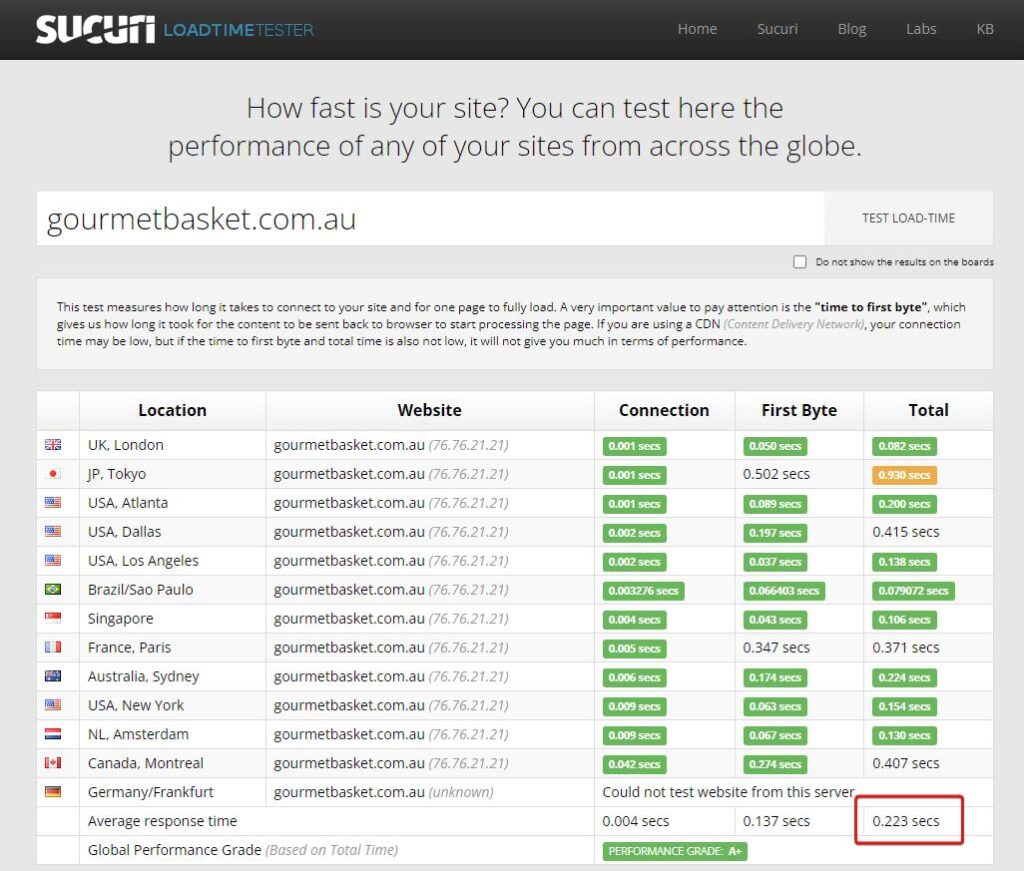 Page loads in a quarter of a second for Gourmet Basket – and up there with some of the world's biggest names!
Largest Contentful Paint
For LCP, measured with GTMetrics, Gourmet Basket's 596ms put it ahead of many major WooCommerce stores.
xeroshoes.com 566ms
gourmetbasket.com.au 596ms
tonal.com 1.0s
gordonramsaycooks.com 1.5s
craftsy.com 1.5s
tgifridays.com 2.2s
cocosolis.com 2.8s
razor.com 4.7s
additionals.polestar.com 4.7s
nutribullet.com 4.9s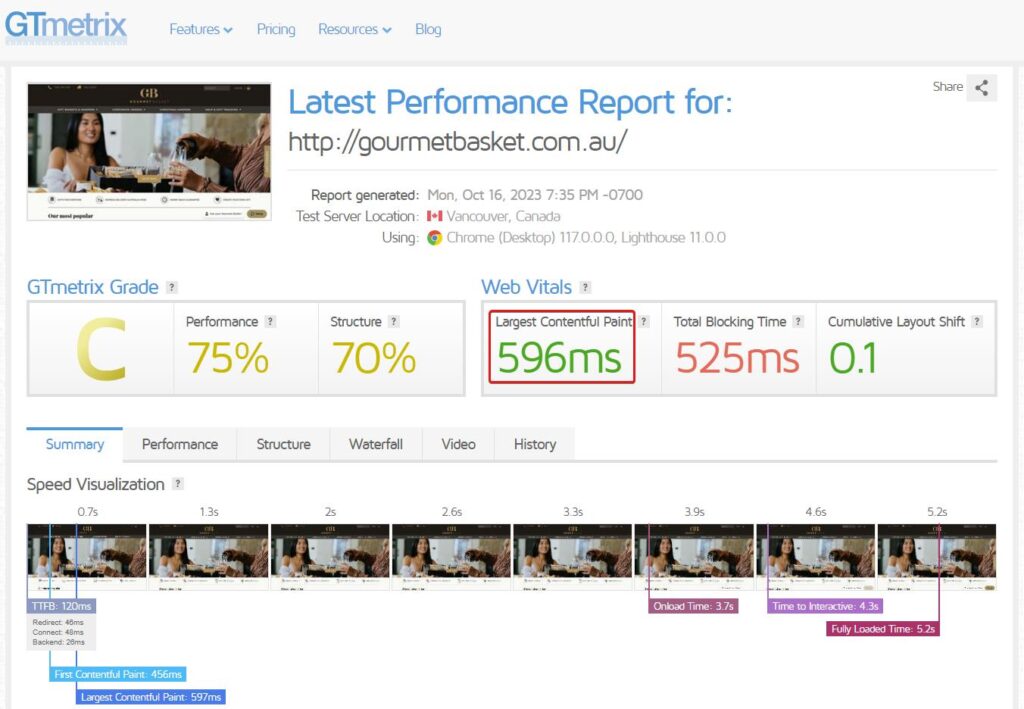 Okay, so Gourmet Basket isn't the fastest WooCommerce store in the world 😊 – a big congrats, though, to Xero Shoes for an LCP under two-thirds of a second.
But it is still well under that critical 1-second mark and far ahead of some serious online players.
And I'll wager that some of those brands spend substantially more on achieving those results than you'd pay with Blaze Commerce.
Your Path to Exceptional Commerce
How does a 30% increase in revenue with the traffic you're already generating sound to you?
What would that be worth to your bottom line?
What would that do to your competitors?
Or, to put it another way, you're losing 30% of your potential sales by having a slow-performing store.
Blaze Commerce offers a solution that can turn this dream into reality.
It's not just about speed; it's about revolutionizing your WooCommerce store. Blaze Commerce is the complete solution, offering features, ease of deployment, UX, and unparalleled performance.
Our team spent 12 months developing it from scratch, leveraging cutting-edge technologies and ensuring an outstanding user experience. And we're committed to continuous improvement as more WooCommerce store owners embrace headless technology.
The best part? Blaze Commerce costs a fraction of what you'd pay for a custom solution and pays for itself within months through increased profits.
Get Early Access: Unleash the Future of Ecommerce Today
You've read about the struggles and obstacles that plague traditional WooCommerce stores—performance issues, low conversion rates, and complex setups that leave you scratching your head. It's like trying to coax an elephant to race; it's slow, lumbering, and not built for speed.
Now, imagine strapping that elephant to a high-powered motorcycle. That's Headless WooCommerce with Blaze Commerce.
We solve the common pain points with a minimum 30% increase in conversion rates and a 20% decrease in bounce rates. Whether you're a store owner, a developer, or an agency, it's time to ride into the future of Exceptional Commerce.
Join our waitlist today and prepare to shift into the next gear with a 50% lifetime discount.